All SWISSCOAT Progressive lenses are true "multifocal" lenses that provide a smooth, seamless progression of many lens powers for clear vision across the room, up close and all distances in between.
When switching vision zones, the final user no longer has a feeling of falling or being out of control. For advanced progressive lens models, despite widened vision zones, distortional levels are reduced while lower prismatic levels allow for a thinner lens in all directions.
With progressive lenses, vision levels are improved and so is the elegant appearance of the lens when compare with bifocal lenses.
Precise focus and clarity wherever you look
Progressive lenses create a brand new experience for wearers, making it easier to focus on the project and hand. Whether you're at work on the computer or reading on the train, these glasses provide unrivalled clarity. Conventional progressive lenses just don't compare.
If you're curious about the quality of SWISSCOAT's progressive lenses, be sure to contact our team in Hong Kong. We aim to provide better vision for all our customers, through regular treatment, innovative and superior lenses and exceptional guidance and advice.
Order your new innovative progressive glasses today
SWISSCOAT new advanced design progressive lens comes with Precision Advance, iFree and Smart Evolution 2.0 , to experience the whole new ultrawide near and far vision zone. Pefectly fitted to all wearer, these lenses are tailor-made just for you, ensuring greater wearer tolerance , faster adaptation and all-around clear vision.
---
Conventional Progressive
MiniPro
SWISSCOAT MiniPro Progressive lenses is the ultimate precision-engineered, short corridor progressive lenses for accurate, it is created for the fashionable eyeglasses wearers who do not want to compromise on style and quality.
SWISSCOAT MiniPro is a perfect soft, short corridor progressive lens on the market, enabling an easy transition between the far vision zone and the reading zone.
ADVANTAGES
• Fits into small frames • Perfect binocular vision • Short corridor
FITTING TIPS
• Fitting height of 16mm • Aspheric in all vision zone
---
Genius
SWISSCOAT Genius is the ultimate precision - engineered progressive lens for accurate, individualized design for every angle, every vision zone and every prescription. Your patients will immediately sense the difference because of the following benefits:
Surround Vision : SWISSCOAT Genius ensures improved Vision because it is designed though an exact simulation of the eye.
Prism Balance : SWISSCOAT Genius guarantees perfect Binocular Vision, enabling patients to clearly perceive an object's depth and dimension. Super Clarity.
Super Clarity : SWISSCOAT is based on SWISSCOAT's advanced Eye-Point Technology, vision clarity is enhanced even more, bringing it an optimal level in every vision zone.
Soft Design : A technological breakthrough, SWISSCOAT's Eye-Point Technology ensures the softest lens design for every vision zone.
Pure Asphericity : Aspheric in all its vision zones, SWISSCOAT Genius is the thinnest possible lens.
Perfect Adaptation to all Frames Sizes : SWISSCOAT Genius is designed for a variety of frame sizes - small and large alike.
SWISSCOAT Genius, an advanced eye-point technology designed progressive lenses. The sophisticated technology takes into account of numerous parameters:
Lens index refraction
Lens prescription
Lens center thickness
Distance from the eye to the back vertex of the lens
Distance from the lens to the object
Object's angular position in the eye's field of vision
Pantoscopic tilt of the frame
Pupil distance
Thickness reduction prism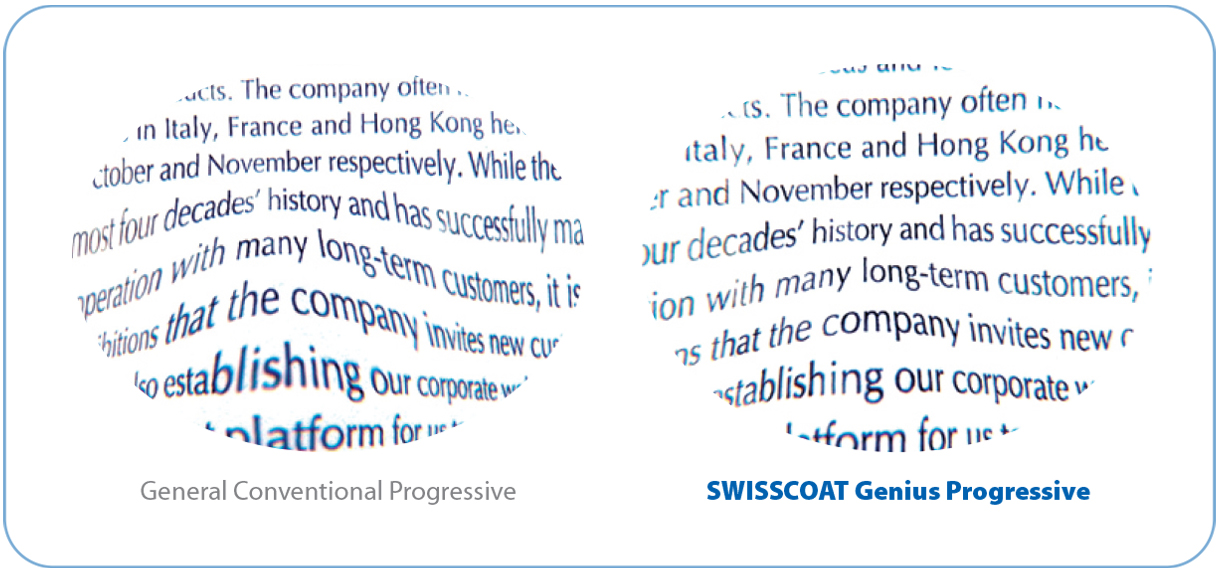 ADVANTAGES
• Improved peripheral vision because it is designed through an exact simulation of the eye • Guarantee perfect binocular vision, enabling patients to clearly perceive an object's depth and dimension • Bringing vision clarity to an optimal level in every vision zone • Soft design for every vision zone • Aspheric in all its vision zone, the thinnest possible lens
FITTING TIPS
• Fitting height of 19mm • Aspheric in all vision zone
---
High Definition Progressive
NECO
A Powerful entry level progressive lenses. Easy design takes visual needs of presbyopia who use handheld devices daily into account.
Visual Quality within your reach
NECO Progressive lens design is the result of applying innovative optimization techniques to standard progressives. Both of the progressive enhanced visual quality with clean areas and smooth gradients.
ADVANTAGES
Budget progressive • Perfect fit for progressive beginners
FITTING TIPS
• Fitting height of 17mm • Power compensation: NO
Precision Progressive
Advance • Daily • Sport
SWISSCOAT Precision Progressive lens series was originated in 2007, a back-side freeform progressive lens. The Precision series offers two models: Daily and Sport, a well-reputed lens series has been highly recommended by the users after its launch. Users are highly satisfied with the Precision's visual performance.
Precision Advance is the finest design of Precision progressive series whereas providing wider distance and near vision, and stable intermediate vision. Adding visual distortion softening technology - harmonizer, effectively flattens the edges of the distortion upto 40%, compared with the general conventional progressive lens while offering wider, more comfortable vision. Precision Advance is designed for any progressive lens users perceiving superior visual comfortable vision. Read More
The left and right distortion of the general conventional progressive lens and the basic back-side free form progressive lens are fixed while distortion depends on the magnitude of near addition power.
As for cases of higher near addition power, the left and right bottoms of a lens are clearly distorted, resulting in intermediate visual oppression and discomfort.
Power: Sph:0.00 Add: +2.00 (Right Eye)
Harmonizer – Visual Distortion Softening Technique: Take a frame shape and size into consideration, resonate distortion with a lens' outside area in order to reduce distortion on both sides and enhance overall visual width and comfortability in the distance vision.



Power: Sph:0.00 Add: +2.00 (Right Eye)